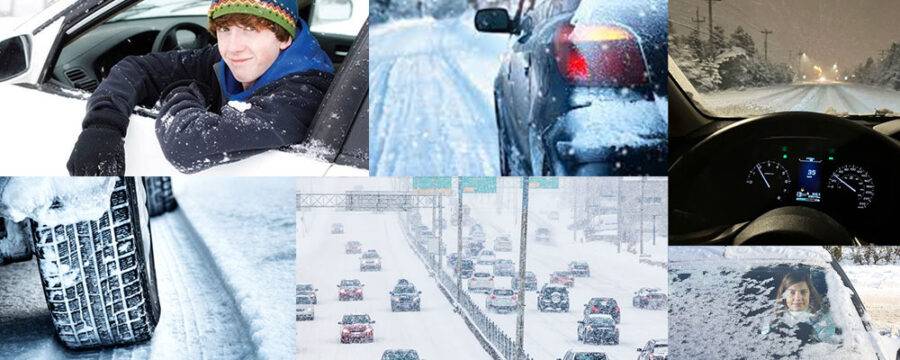 Snow in Milwaukee is both beautiful and perhaps one of the more fun features of an otherwise difficult season. But even if you love to play in the snow, your car doesn't.
Even some of the most experienced drivers can be undone by a few inches of snowfall, and snow is responsible for thousands of accidents each year. Even if you live in an area without a lot of snow, you may find yourself plowing through the slushy, slippery stuff at some point in your life. Here are some tips for driving in snow and ice for the first time to help make your adventure a little more pleasant.
1. Prepare with the Right Tires
Prevention is the best medicine, and this holds true for driving in the snow, as well. You will need to have the right tires in order to have the best chances of making it through a snowy winter. There are a lot of tires out there that claim to be all-season tires. Yes, they may work well most of the time, but if you want to be sure you are able to manage during a snow storm, you may be better off getting some tires that are designed specifically for the snow.
These days, a lot of municipalities are outlawing the use of chains, which makes snow tires an even better option during a tough storm. To be safe, have them installed well before the first snow fall is expected. The good news is that you can usually use them for many years because they are only on your car for a few months. 
2. Drive Slowly
This tip may be a no-brainer, but it cannot be overstated. In addition to saving you money at the pump, going slowly has practical benefits when it comes to driving in snow and ice. As the treads of your tires sink into the snow, they grip the surface and provide a moment of stability, but it takes a moment for the snow to be compressed enough for this to occur. Snow has a small, yet helpful, friction coefficient, and this can provide your tires with grip as the snow is pushed into the asphalt or other surface below. 
Slowing down also gives you more time to reach to unexpected events on the road. While it will mean taking longer to reach your destination, it's well worth it if it means avoiding an accident on the way.
3. Leave Extra Distance Between You and Other Cars
As we all know, increasing the distance between your car and others can make you a safer driver, which will also save you money on car insurance, car repairs, and injury expenses. But in addition to all of those benefits, driving at a safe distance is one of the best ways to avoid an accident while driving in a snowstorm. If something happens to the car in front of you, you are going to need a lot of time to stop, and just driving slowly may not be enough. As your tires apply pressure on the snow, it can solidify into slick ice while you brake. 
This is especially important when you need to drive uphill in the snow. If you can avoid it, you should. Hills can get icy patches and if you don't have all-wheel drive your car can lose traction and start sliding backward. When you need to drive uphill, maintain a consistent speed and don't go too slow. Remember to use your better judgment when you pick routes on a snowy day. If you know that the hills are salted by a certain time and your car can handle it, make a calculated decision to get where you need to go.
Therefore, the farther behind the other cars you are, the better. Think of the space between you and other cars as a collection of opportunities to stop. The bigger this collection, the better. 
4. Check Your Rearview Mirror Whenever Changing Speeds
Although getting rear-ended usually means that the other driver is at fault, your objective is not to just arrive without an at-fault accident, but to arrive accident-free. Any time you adjust your speed, check your rearview mirror. If you slow down, this will obviously make you aware of a car that is braking a little too late, and you can adjust the rate at which you decelerate. When you speed up, the driver behind you may be thinking, "Finally," and speed up right behind you. This could put both of you in danger, and you will want to be aware of it.
When stopping your car, this is especially important. Not only can you adjust the rate at which you stop, checking your rearview mirror has other benefits. The driver behind you may see your eyes in your mirror and that eye contact can let him or her know that you are about to stop. You can also check to see if the driver to your rear is going into a skid. You can perhaps move your car slightly more forward to make a collision less likely. If it's safe to do so, you can also steer in one direction or the other to help the driver avoid you.
5. Steer into a Skid
Despite how hard it is driving in the snow for the first time, there's no need to panic if you go into a skid. You can steer into it to help prevent an accident. What's involved in steering into a skid? This means if the back of your car is skidding out to the right, you steer right, and if the back of your car is sliding out to the left, you steer left. Doing this will help you regain control of your car faster and will also help prevent the potentially dangerous sliding motion from getting worse.
As your front tires turn towards the skid, they are compensating for the motion of the rear of your car. The little bit of friction they have will help the front of the car head in that direction instead of being pushed in the opposite direction by the skidding rear. If your car is front-wheel drive, the effect is even greater. The pull of the driving tires will help move the front of your car in the proper direction, again, counteracting the force of your skidding rear.
6. Don't Panic
This is one of those things people say that folks tend to dismiss. However, this should be your first thought if you find yourself in an adverse situation in the snow. Say to yourself, or out loud, "Don't panic. It's going to be all right." It will help you keep a cool head and make the best possible choices on the road.
Driving in the snow, when you get the hang of it, can actually be kind of nice. Everything is muted, silent, and smooth. The slower pace can be a nice alternative to the hustle and bustle speed you normally drive. Make sure you leave nice and early to reach your destination so you can get there easily, on time, and most of all, safely.
7. Look Far Ahead
Make it a point to scan what is far ahead of you and anticipate what could happen. If you see a stop light or heavier traffic, slow down a lot earlier than you normally would. Black ice happens and instead of reacting during the approach, start slowing down early. Driving in the snow takes extra concentration. If you have a turn coming up, taking double the time to decelerate would be wise.
8. Carry Supplies
You never know when a nasty snowstorm is going to roll in when you're on the road. It's also not impossible to skid off the road into a snowbank. We don't say this to scare you. Ideally, you should be prepared for these situations with an emergency supply kit in your vehicle. If the unthinkable happens, you'll have blankets, food, and water until help arrives.
9. Driving in Snow at Night
If you can avoid driving in the snow at night, by all means, do it. Snow is reflective, especially when you shine bright headlights on it. This makes for a significant decrease in your ability to see the road. Additionally, it's harder to see how well the road has been salted or patches of black ice. If you need to get home from work or an event take extra, time and caution and avoid backroads. Plows and salt trucks tend to prioritize main roads. Also, should anything happen, you're more likely to catch a passerby's attention.
10. Driving Uphill in Snow
First and foremost, use your better judgment. If you know what time the plows and salt trucks clear the roads, aim to drive on hills in those time windows if you can't avoid it on your commute.
You should accelerate before you start going up so your vehicle is using its power to go up. If you accelerate once on the hill your car might be on an ice patch and skid or slide backward. Also don't try to power up the hill, if you press the gas too much you'll likely spin the tires. Finally, don't stop. You could get stuck or start sliding backward.
If you or a loved one has been injured due to snow related car accident, let us help!  Call Jacobson, Schrinsky & Houck in Milwaukee TODAY at (414) 223-4444 to have one of our caring lawyers come out to meet you and get car accident help TODAY and money for your injuries. There is no fee until we win.
#jshlaw #milwaukeecaraccidentlawyer #caraccidenthelptoday #nofeeuntilwewin #money4injuries #snowdrivingtips #firstsnow