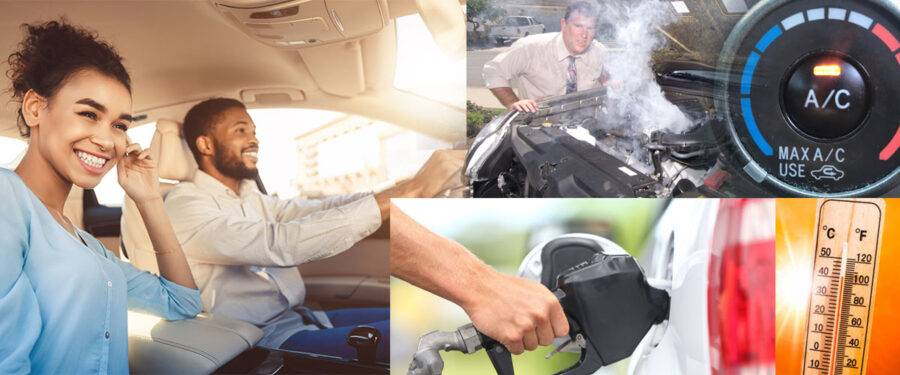 Driving during the hot summer months in Milwaukee poses some unique dangers to vehicles and passengers, but keeping you and others safe all comes down to preparation. When the temperature increases, decrease your risk on — and off — the road with these tips for driving in extreme heat:
1 – Plan ahead. If you can, try to avoid driving at peak heat. Make sure you know your route ahead of time. Have a fully charged phone and extra cash just in case. 
2 – Wear sunscreen. Just because you are inside a car, does not mean you are protected from the sun's strong rays. Keep extra sunscreen so you can reapply.
3 – Hydrate. Make sure you're drinking plenty of water before and during your trip. Keep some extra water in your car so you can continue to hydrate.
4 – Clean your windshield. Sometimes the sun can be so bright it is hard to see through your windshield if it is smudged with dirt, oil, or bugs.
5 – Service your vehicle. Check your car for all the usual maintenance. Use the above list as a guide to double-check your car is up to the task of driving in heat. Some important maintenance parts to remember are tires, fluids, A/C system, and battery. 
6 – Have a well-stocked emergency kit. This includes water, jumper cables, non-perishable food items, phone charger, flares, and first aid kit.
7 – Fuel up. It's always a good general rule to keep your fuel tank full. This is important in hot weather because you don't want to be stuck in the heat with an empty tank.
8 – Keep you and your passengers cool. Driving in a hot car can be dangerous. Fatigue from heat can inhibit you from operating the vehicle safely. Use your air conditioning system to maintain a comfortable interior temperature.
9 – Keep your engine cool too. Hot weather causes stress on your engine because they work harder to prevent overheating. AAA suggests that you flush and replace your coolant periodically in order to operate properly.
10 – Choose your roads wisely. In general, highways are better maintained than regular streets and therefore better equipped to handle extreme heat.
If you or a loved one has been injured due to weather related car accident, let us help! Call Jacobson, Schrinsky & Houck in Milwaukee today at (414) 223-4444 to have one of our caring lawyers come out to meet you and get car accident help TODAY and money for your injuries. There is no fee until we win.
Jacobson, Schrinsky & Houck – Experience – Compassion – Results
#jshlaw #milwaukeecaraccidentlawyer #caraccidenthelptoday #nofeeuntilwewin #money4injuries #extremeheatdriving #beattheheat