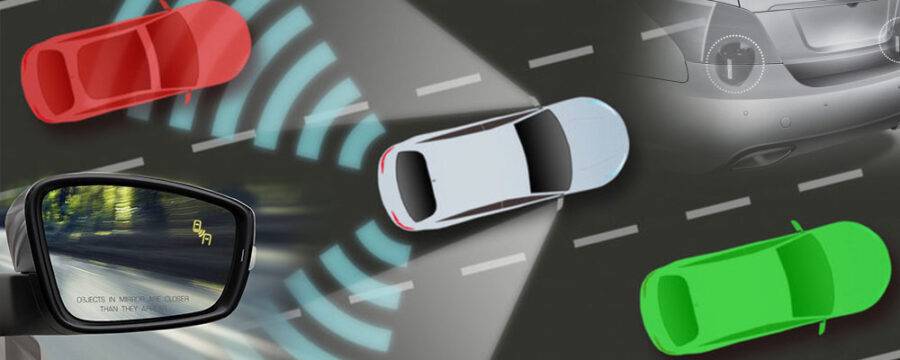 Blind-spot monitoring is an active driver aid/safety device with the ability to detect what your eyes may miss, issuing a warning as a vehicle approaches in an adjoining lane.
Blind-spot monitoring is just what its name implies: It keeps an eye on the space just off the rear quarter areas of your vehicle. These blind spots can hide a vehicle approaching in an adjacent lane because many drivers improperly set their car's outboard mirrors. Consequently, merging into that lane often results in a crash.
In fact, according to the National Highway Traffic Safety Administration (NHTSA), roughly 9% of all reported vehicle crashes each year result from changing lanes or merging.
Once only found in high-end luxury cars, blind-spot monitoring eventually trickled down to even economy cars. If blind-spot monitoring isn't standard on a vehicle, it's probably available as a stand-alone option or in an option package.
The larger your vehicle, the bigger the blind spot. The bigger the blind spot, the more blind-spot monitoring can help prevent you from changing lanes into another vehicle. 
What is Blind-Spot Monitoring?
As far as today's crop of driver-aid technologies goes, blind-spot monitoring is quite simple. The least sophisticated examples use radar or ultrasonic sensors embedded in each side of the vehicle's rear bumper. These sensors detect a vehicle approaching the rear of your car in an adjoining lane. More sophisticated blind-spot monitoring systems also employ side-mounted cameras.
When blind-spot monitoring recognizes a vehicle about to enter a blind spot, it warns you that a particular adjoining lane is not clear. Commonly, the alert comes in the form of a yellow warning light somewhere on the outboard rearview mirror on whichever side of the oncoming car is involved. It may, instead, appear on your vehicle's A-pillar (the pillar between the windshield and either front door), driver-information display, or head-up display.
Benefits of Blind-Spot Monitoring
We are convinced that if you haven't experienced blind-spot monitoring, you will grow to appreciate it. Here are a few benefits you may not have considered:
It will prevent some accidents and can minimize others.
You will experience increased driving awareness.
You will feel safer and more confident, and so will your passengers.
Early warning increases the time you have to respond.
It relieves you of some of the stress of driving in close quarters.
The larger the vehicle, the greater the benefit.
We hope that you learned more about the benefits of a blind-spot monitoring system.  If you were injured in a car accident, let us help! Call Jacobson, Schrinsky & Houck in Milwaukee today at (414) 223-4444 to have one of our caring lawyers come out to meet you and get car accident help TODAY and money for your injuries. There is no fee until we win.
#jshlaw #milwaukeecaraccidentlawyer #caraccidenthelptoday #nofeeuntilwewin #money4injuries #blinbdspotmonitoring #checkyourblindspot