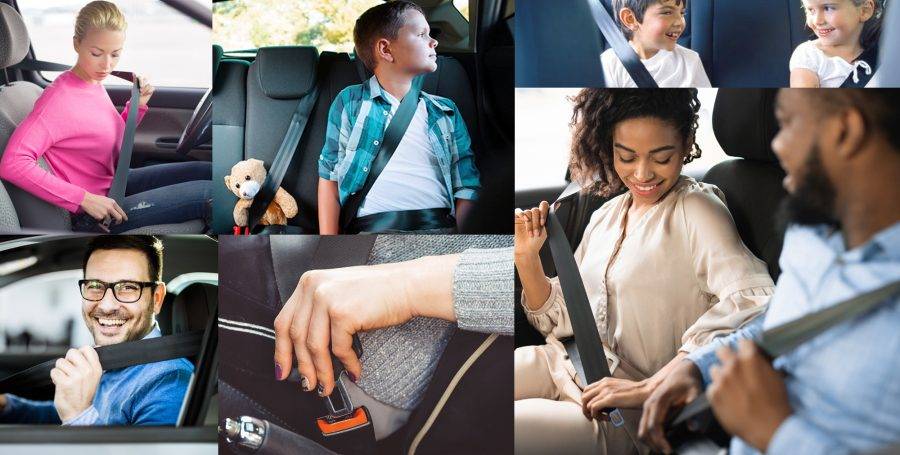 Seat belts have been standard equipment in passenger cars since 1968. Usage was low at first, but in the 1980s states began to set mandatory seat belt laws. The DOT then pushed out a large-scale public-education campaign, which turned crash-test dummies into cultural icons. (Scroll down to see a history of seat belts.)
The results were significant. After New York State passed the first seat belt law in 1984, observed belt use rose from 14 percent to 37 percent within two years. By the end of the 1990s, it was above 70 percent.
Worn properly, seat belts are designed to spread crash forces across the stronger bony parts of the body, including the shoulder, rib cage and pelvis. Seat belts also prevent occupants from being ejected from the vehicle, an event associated with high risk of injury and death. Relative to occupants who are not ejected from vehicles, occupants who are ejected in nonrollover crashes are nearly twice as likely to die, and those who are ejected in rollover crashes are 4 times more likely to die (NHTSA, 2010).
With the exception of New Hampshire, all states and the District of Columbia require adult front-seat occupants to use seat belts. Adult rear-seat passengers also are covered by the laws in 31 states and the District of Columbia. Children are covered by separate laws.
The use of lap and shoulder belts has been proven to lower the risk of fatal injury to motor vehicle occupants and nearly all states have enacted some form of seat belt law although the strength of the law varies. Seat belt laws are divided into two categories: primary and secondary. Primary seat belt laws allow law enforcement officials to ticket a driver or passenger for not wearing a seat belt, without any other traffic offense present, while secondary seat belt laws allow law enforcement officials to issue a ticket for not wearing a seat belt only when there is another traffic offense cited. With the proven strength of the risk reduction, seat belt use is a strong indicator associated with transportation.
Seat Belt Stats
– When used properly, seat belts reduce the risk of fatal injury to front seat passengers by 45 percent and the risk of moderate to critical injury by 50 percent.
– Though state laws vary for adults, all 50 states and Washington, D.C., require children to be either in a safety seat, in a booster seat, or wearing a seatbelt, depending on their age, height, and weight.
– While you could get abrasions or bruises from a seatbelt in a crash, those injuries are far less severe than what could happen if you don't wear a seatbelt. In cases where an injury is seatbelt-related, it is still almost always better than the injuries that would result from not wearing a seatbelt.
– Seat belt use in passenger vehicles save an estimated 13,000 lives every year. That's around 35 people every single day.
– You are 30 times more likely to be ejected from your vehicle in a crash if you don't wear a seatbelt.
– In 2017, 5.9 percent of teen passengers reported rarely or never wearing a seat belt recently, a 20 percent decrease since 1991.
– People not wearing a seat belt are 30 times more likely to be ejected from a vehicle during a crash. More than 3 out of 4 people who are ejected during a fatal crash die from their injuries.
– Teens who say their parents set rules and monitor their driving are twice as likely to wear a seat belt as a driver or passenger as teens with less involved parents.
Getting drivers—and their passengers— to buckle up "is one of the great success stories in our society, about how we can change behavior," says Rosekind of NHTSA. But more work needs to be done. "We are at 88.5 percent," he says. "We need to get all the way to 100."
If you have been injured due to a car accident, let us help! Call Jacobson, Schrinsky & Houck in Milwaukee today at (414) 223-4444 to have one of our caring lawyers come out to meet you. Get car accident help today. There is no fee until we win.
Car Accident Attorneys – Jacobson, Schrinsky & Houck – Experience – Compassion – Results