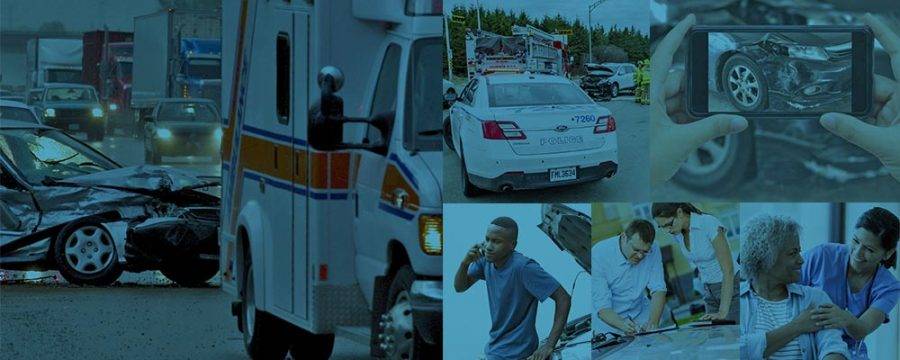 When a car accident happens, injuries may be severe and emotions high. However, there are important things to do at the scene of the accident and soon afterward. Here is a list of important steps to consider after an accident.
1. Remain at the Scene – Never leave the scene of an accident until it's appropriate to do so.
2. Check on All Drivers and Passengers Involved – Make sure everyone involved in the accident is okay. Get medical attention for anyone who needs it.
3. Call the Police – If there's extensive property damage, you need to call the police.
4. Exchange Information – Get the names, numbers, addresses, drivers' license numbers, license plate numbers, and basic insurance information from all drivers involved.
5. Talk to Witnesses – Ask every witness what he or she saw. Request their contact information, if possible.
6. Take Pictures – Take pictures of any damage to your vehicle. Pictures will help your insurance adjuster determine how much you should be compensated for the damage to your car and can help in court.
7. Inform Your Insurance Company – Promptly tell your insurance company you've been in an accident. Cooperate with them and tell them the truth about what happened and the extent of your injuries. Explain the facts clearly.
8. Keep Track of Your Medical Treatment – Note any medical professionals that you receive treatment from. Keep a detailed account of the treatments and/or medications you receive.
9. Be Wary of Early Settlement Offers – Be careful if you're offered a settlement from an insurance company. Don't settle a claim until you know you'll be compensated for all your injuries, and consult an attorney before signing any settlement documents.
10. Consider Hiring an Attorney – If anyone was injured in the accident, it's best to consult an experienced attorney. An attorney can help you maximize your recovery if you're injured or better defend yourself if you're at fault.
If you were involved in a car accident, let us help! Call Jacobson, Schrinsky & Houck in Milwaukee today at (414) 223-4444 to have one of our caring lawyers come out to meet you and get car accident help today.
Car Accident Attorneys – Jacobson, Schrinsky & Houck – Experience – Compassion – Results