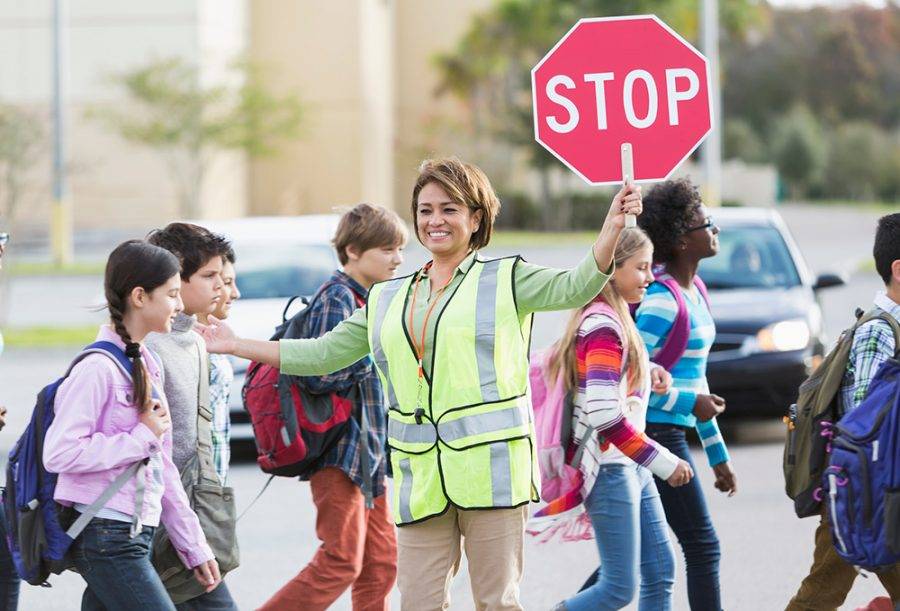 School Crosswalk Safety Tips
According to the National Highway Traffic Safety Administration, children ages 16 and under are the most at-risk for getting hit while crossing the street.  In order to protect them from dangerous and life-threatening accidents, it's essential to encourage crosswalk safety when they're on the road.
– Don't block the crosswalk when stopped at a red light or waiting to make a turn, forcing pedestrians to go around you; this could put them in the path of moving traffic
– In a school zone when flashers are blinking, stop and yield to pedestrians crossing the crosswalk or intersection
– Always stop for a school patrol officer or crossing guard holding up a stop sign
– Take extra care to look out for children in school zones, near playgrounds and parks, and in all residential areas
– Don't honk or rev your engine to scare a pedestrian, even if you have the right of way
– Never pass a vehicle stopped for pedestrians. Always use extreme caution to avoid striking pedestrians wherever they may be, no matter who has the right of way.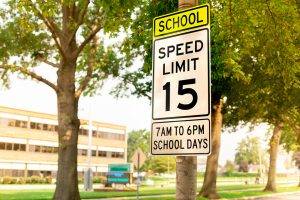 5 Things To Remember When Driving In a School Zone
School zones are put in place to ensure the safety of children in and around schools. While class is in session, drivers are responsible for maintaining safety and awareness on the streets surrounding schools. All children should be able to walk or bike to and from class without fear of being hit by passing vehicles. As drivers, we must not be careless around school zones.
Below are some of the standard regulations regarding school zones tips for keeping the kids safe:
How To Drive In and Around School Zones
1 – Recognize school zones.
The number one rule to remember about school zones is that you must be aware of them. Almost all school zones are preceded by numerous warning signs, flashing lights, and/or speed bumps. All these things are in place to ensure that drivers are aware of the approaching school zone before it is too late. Keep your eyes on the road and your mind on the task at hand at all times.
2 – Reduce your speed when traveling through school zones.
The warning signs that precede school zones often included a reduced speed limit sign. Depending on the type of roadway the school zone is in, this speed limit could be as low as ten or fifteen miles per hour. Regardless, the speed limit in school zones will be significantly lower than what is posted on other areas of the same roadway.
3 – Be aware of an unusually high concentration of pedestrian crosswalks in school zones.
Several of these walkways may be positioned in school zones to facilitate parents and students walking to and from nearby neighborhoods. These crosswalks will appear as a series of parallel white pavement markings stretching from one side of the road to the other and will often be marked with warning signs. Always yield to pedestrians on the road, even those who are not using the marked crosswalks.
4- Be on the lookout for buses.
Buses often have a difficult time navigating the increase in traffic during the mornings and afternoons in school zones. Yield right of way to buses at all times. Make sure that you stop when their stop sign is deployed. Whether driving through a school zone or not, keep a watch out for children waiting on the curb for their bus when driving in the mornings. Also, watch for students being dropped off at their homes in mid-afternoon.
5 – Expect increased traffic in and around school zones
Expect increased traffic in and around school zones, especially between seven and nine in the morning and two and four in the afternoon. These are the times when parents and buses are delivering kids to the school or picking them up after class is over. Parents who pick-up their children may have their cars parked down the street for up to an hour before school dismisses. Drive slowly and carefully during these times to keep students and parents safe.
Please slow down, pay attention, and ensure the safety of the children as they travel to and from school.
If you are dealing with an injury due to a school zone accident, contact Jacobson, Schrinsky & Houck today at: 414-223-4444. We will come out to meet with you.
Car Accident Attorneys – Jacobson, Schrinsky & Houck – Experience – Compassion – Results