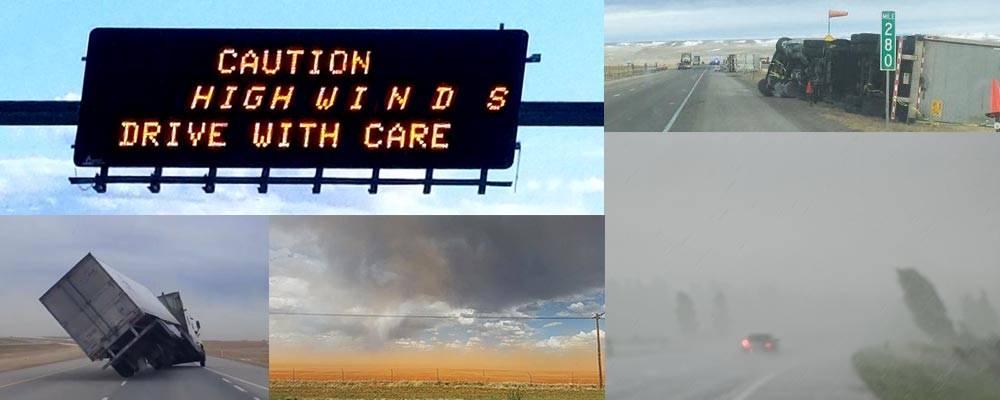 Windy conditions often come with rain and snowstorms, but strong, sustained winds can occur on their own, creating extra dangers for commuters. Here are five tips to get you through the windy weather.
1 – Watch the weather – Weather service offices may issue high-wind watches, warnings, or advisories when winds will make it difficult to drive. Expect winds to be worse in exposed places, such as straight, open roads, bridges and overpasses, or between hills.
2 – Be aware of high-profile vehicles – Large trucks, vans, buses, and those towing cargo, are vulnerable to losing control or tipping over in high winds. They can also create turbulence for motorcycles and other small vehicles. Drivers should pay extra attention to the road and anticipate gusts in windy conditions.
3 – Keep your distance – Maintain a safe distance from other vehicles to give yourself and other motorists time and space to avoid any debris in the road. Turn on your headlights to see better through dust, dirt, or remaining snow that the wind kicks up.
4 – Keep your hands on the wheel – Heavy winds make it harder to steer and handle a vehicle, so keep a firm grip on the wheel. If you don't feel comfortable driving, pull over to a safe place until the wind dies down.
5 – Slow down – Driving slower than the posted speed limit helps lessen the dangers of wind and helps you better control the vehicle.
If you are dealing with a car accident due to extremely windy conditions, let us help! Call Jacobson, Schrinsky & Houck in Milwaukee today at (414) 223-4444 to have one of our caring lawyers come out to meet you. Get car accident help today. There is no fee until we win.
Car Accident Attorneys – Jacobson, Schrinsky & Houck – Experience – Compassion – Results